Accept online payments with Stripe
Stripe
We're very pleased to announce that Cashboard now connects with Stripe.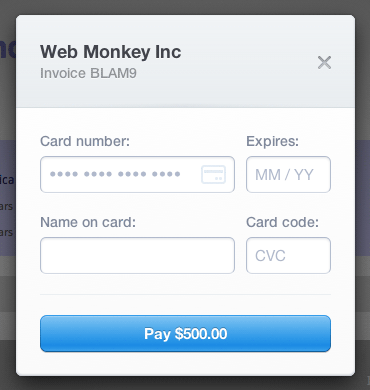 Stripe is a newcomer to the payment processing arena, but it's already making big noise.
All you need to accept payments with Stripe is a bank account.
There's no application process, hidden fees, or startup costs. Compared to older ways to process payments this is certainly a breath of fresh air.
Your customers will love it
The experience of paying an invoice with Stripe is slick and refined. We're using their latest technology (Stripe Checkout) to capture your customer's credit card details.
All they'll be required to enter is the card number, expiration, CVV, and their name. It doesn't get much more simple than that.
Easy to understand fees
What you see is what you get with Stripe.
There's no startup fee, gateway fee, or cost to apply.
There are also no hidden charges for accepting "foreign cards", or weird "qualified rates" that you might be used to with a merchant account or PayPal.
Customers with a PREMIUM Cashboard account only pay 2.9% + $0.55 per transaction
We add a small fee on top of what Stripe charges to ensure the performance of our system. ($0.25-$0.70)
How to connect with Stripe
To start processing payments with Stripe, visit your Settings > Account screen inside Cashboard.
When there, simply click the "Connect with Stripe" button, and you'll be on your way.
Go sign up here to be notified when they expand to your region.
---
comments powered by Disqus