Painless time tracking software
We understand that timesheets are a necessary evil - but they don't have to suck. Cashboard is designed to make tracking time painless, enabling you to capture hours in a way that fits your work style.
Tracking time with Cashboard is flexible, allowing you to create tasks and log time wherever you are. It won't make you jump through hoops like creating tasks one place, then tracking time in another.
---
Daily timesheet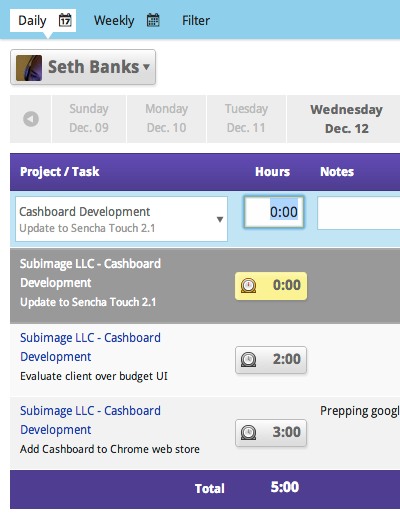 This view is perfect if you work on lots of different tasks within a single day.
You can start and stop timers on multiple projects with just 1-click. Our timers run in the cloud so you can start one, close your browser and come back later.
Leave notes so you remember what you worked on. They'll even be brought into your invoices if you bill for your time later.
Your clients will appreciate your attention to detail.
---
Weekly timesheets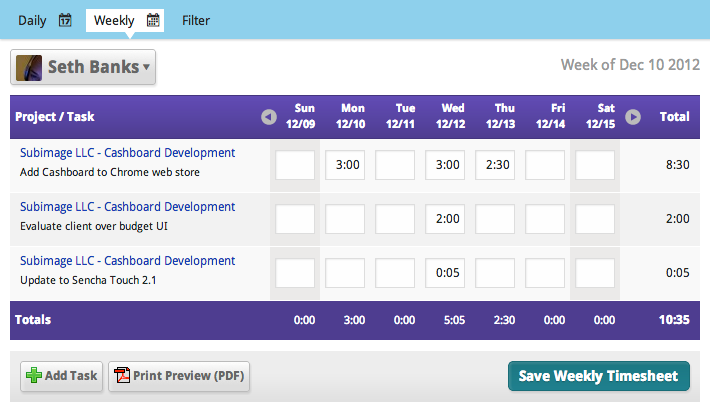 If you prefer to track time for an entire week at once this timesheet is for you. Our weekly interface allows you to quickly enter your hours for multiple tasks.
You can even download your weekly timesheet as a PDF file - great if you need to present it to a supervisor offline.
---
Project timesheet view
This view is optimized for focused work on just one task.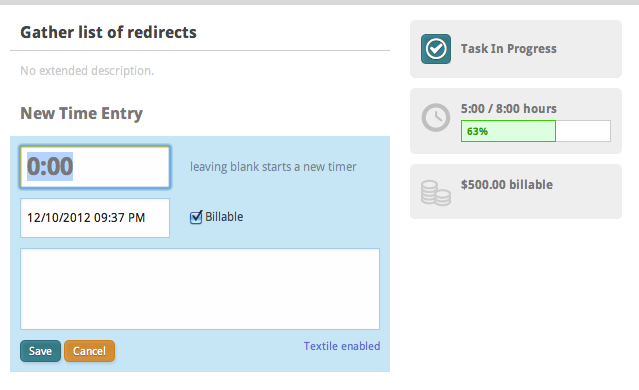 Log multiple time entries in the same window and leave notes describing what you did. Everyone on your team can see the work being done, and how much is left before going over an estimate.
Learn more about our Project Bulletin Board.
---
Spreadsheet time card import
Prefer to track your time offline the old fashioned way - or maybe moving from another system? Cashboard is smart enough to import your time entries from a CSV file.
---
Approve your employee's timesheets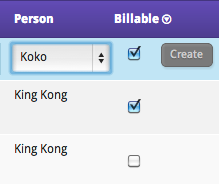 With Cashboard your employees can track time, and you can review it before it's invoiced.
Doing this is easy. First, setup all entries to be entered as non-billable by default. When it's time to invoice, view your employees time, and mark the ones billable that are approved.
---
Mobile timesheet app
Cashboard Mobile allows you to use our cloud timers anywhere. It has a daily timesheet view optimized for your handheld device. Start and stop timers with one tap just as easily on your computer.
---
Time Tracking Dashboard Widget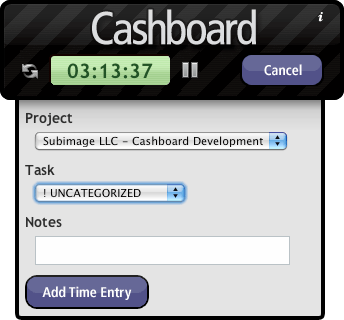 Our classic time tracking dashboard widget for Mac OS X allows you to run timers locally on your computer, then save them to Cashboard.
It's lightweight and runs in the background - getting out of your way while you get work done.