Cashboard referral program
Our greatest source of growth has always been word of mouth from happy customers. To show our thanks, we're crediting you for every paying account sent our way.
How it works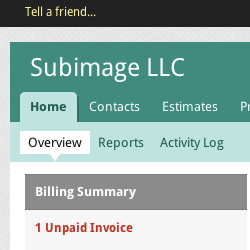 Login to your Cashboard account
Click on 'Tell a friend...'
Post your custom link on websites, blogs, and social networks
You earn a $10 account credit for each paid account that you refer!
Each Cashboard account has a unique link that automatically records when people have signed up from content that you've shared. Your account will be credited the instant that someone pays their first Cashboard bill.
Places to share
We've made it dead simple to start telling everyone about Cashboard by providing a custom link, social sharing options, and even a boilerplate email you can send to your friends.
If you've been waiting to write that glowing review of our service on your blog now is the best time. We'd also appreciate any links in the sidebars of your websites, blogs, tumblr pages, and anywhere else you can think of!
Let us know if you've got any questions about the program in the comments below.
---
comments powered by Disqus