Get paid faster by accepting credit cards
It's a proven fact that clients will pay faster if you can accept electronic payments.
We've selected the best payment gateways,
making it simple for you to get paid online.
Your clients will love how easy paying their invoices are, and you'll love not having to wait for that check to clear.
---
Stripe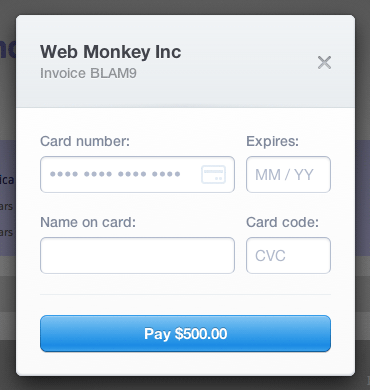 Stripe is our preferred way to accept online payments.
Stripe offers the best rates and experience for you and your customers.
There's no setup fee, merchant application process or hassles to deal with.
Stripe is currently available in the USA and Canada.
---
Accept PayPal payments
We're also a certified PayPal Partner, allowing you to integrate your PayPal account with our service to accept credit cards and PayPal payments. (Worldwide)
Selecting PayPal Payments Standard as your payment solution will redirect your clients to the PayPal website to complete their transaction. Payments can still be automatically entered into Cashboard upon success, but it requires a little configuration on your part.
Using PayPal Website Payments Pro as your payment solution will allow you to process credit cards directly inside Cashboard, and also allow you to accept transfers from PayPal accounts. (USA, UK and Canada)
Learn more about using PayPal with Cashboard.
---
First Data / Authorize.net gateway
With a merchant account you can accept payments online, and run them in person if you have a physical presence. Merchant accounts have a nominal setup fee, and their rates vary based on your business. (USA, UK, and Canada)
We've teamed up with First Data Merchant Services, a worldwide leader in payment processing, to bring you the best possible rates.
After collecting a bit of information, we'll forward it to First Data and one of their representatives will contact you. Enabling credit card processing after that is a snap.